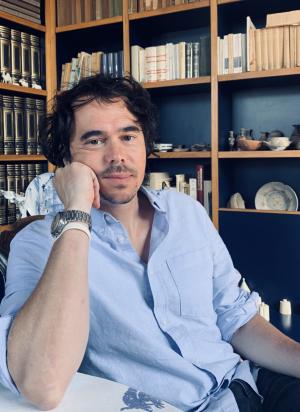 Professor of US History, Fundamentals, in the Committee on Social Thought, and the College
MAILING ADDRESS
Department of History
1126 E. 59th St., Mailbox 32
Chicago, IL 60637
ABOUT
I am a historian of economic life and of the United States, with interests in the relationships among business history, political economy, legal history, and the history of ideas and culture. In addition to being a member of the Department of History and the John U. Nef Committee on Social Thought I am the current Faculty Director of the Law, Letters, and Society program.
My most recently completed book is Ages of American Capitalism: A History of the United States (Random House, 2021), which is a history of American economic life from British colonial settlement through the Great Recession. The book is also a single-volume history of the United States.
Much of my recent research has sought to place investment at the center of economic history and theory, and, relatedly, to contribute towards the creation of a "Keynesian" paradigm in economic history.
I am currently working on three projects. The first is a book, The Real Economy, which collects a number of published and unpublished essays I have written over the past years on economic theory and history, with a focus on capital, corporations, and profit. Another book, The Fetish of Liquidity, is a revised version of a series of lectures that I gave at the École des hautes études en sciences sociales in 2017 on global economic history since the Great Depression. The final project is a climate history of the city of Houston in the late twentieth and early twenty-first centuries. I wrote a series of essays on this topic in 2019 for the Visualizing Climate and Loss Project at Harvard's Center for History and Economics.
My first book, Freaks of Fortune: The Emerging World of Capitalism and Risk in America (Harvard, 2012), won the Organization of American Historians' Frederick Jackson Turner Award, Ellis W. Hawley Prize, and Avery O. Craven Award and the American Society for Legal History's William Nelson Cromwell Book Prize. 
Associate Faculty Member, Law School; Faculty Affiliate, Center for the Study of Race, Politics, and Culture; Faculty Chair, Law, Letters, and Society; Senior Fellow, Society of Fellows in the Liberal Arts, the College
PUBLICATIONS (SELECTED)
"Radical Uncertainty," Critical Quarterly 62, issue 1 (April 2020): 15-28.
"Primal Capital," Critical Historical Studies 6, no. 2 (Fall 2019): 161-193.
"Appreciating Assets: New Directions in the History of Political Economy," American Historical Review (December 2017).
"Capital as Process and the History of Capitalism," Business History Review 91, 3 (Autumn 2017): 483-510.
"From Fiscal Triangle to Passing Through: Rise of the Nonprofit Corporation," in Naomi Lamoreaux and William Novak eds., Corporations and American Democracy (New York: Cambridge University Press, 2017).
"Altruism and the Origins of Nonprofit Philanthropy." In Rob Reich, Chiara Cordelli, and Lucy Bernholtz, eds., Philanthropy in Democratic Societies: History, Norms, Institutions (Chicago: University of Chicago Press, 2016).
Coauthored with Jeremy Adelman. "The Fall and Rise of Economic History." Chronicle of Higher Education (Dec. 1, 2014).
"Accounting for Profit and the History of Capital." Critical Historical Studies 1, no. 2 (Fall 2014): 171–214.
"Contemplating Delivery: Futures Trading and the Problem of Commodity Exchange in the United States, 1875–1905." American Historical Review 111, no. 2 (Apr. 2006): 307–35.