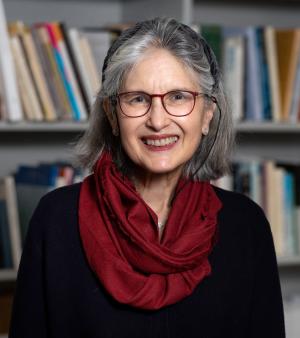 Visiting Professor in the Committee on Social Thought and History
Lorraine Daston is Director emerita at the Max Planck Institute for the History of Science, Berlin, Permanent Fellow of the Wissenschaftskolleg zu Berlin, and regular visiting professor in the Committee on Social Thought. Her work focuses on the history of rationality, especially but not exclusively scientific rationality. She has written on the history of wonder, objectivity, observation, the moral authority of nature, probability theory, Cold War rationality, and scientific modernity. Her current book projects are a history of the origins of international science and a reflection on what science has to do with modernity.
Her work has been recognized by the Pfizer Prize of the History of Science Society, the Dan David Prize in the history of science, the Gerda Henkel Foundation Prize in the Humanities, and the Heineken Prize in History. She is a fellow of the American Academy of Arts and Sciences and member of the American Philosophical Society, the German National Academy of Sciences, and corresponding member of the British Academy.
SELECTED RECENT PUBLICATIONS
Books
Rivals: How Scientists Learned to Cooperate (New York: Columbia Global Reports, 2023)
Rules: A Short History of What We Live By (Princeton University Press, 2022). Chosen as one the thirteen Best Scholarly Books of 2022 by the Chronicle of Higher Education. 
Against Nature (MIT Press, 2019)
(with Peter Galison), Objectivity (Zone Books, 2007)
(with Katharine Park), Wonders and the the Order of Nature, 1150-1750 (Zone Books, 1998). Awarded Pfizer Prize of the History of Science Society.
Classical Probability in the Enlightenment (Princeton University Press, 1988; new edition in Princeton Classics series, 2023). Awarded Pfizer Prize of the History of Science Society.
Recent Articles
"Space inspires awe. So does collaboration that helps us understand it," Washington Post (28
July 2023)
"The virtue of discretion," Aeon (21 April 2023)
"On Average," in In Time of Plague: The History and Social Consequences of Lethal Epidemics, ed. Arien Mack, Social Research 87(2020): 239-240.
"Ground-Zero Empiricism," Critical Inquiry "Posts from the Pandemic" (10 April 2020); translated into French and Spanish.
"The Coup d'Oeil: On a Mode of Understanding," Critical Inquiry 45(2019): 307-331.
(with Sharon Marcus), "The Books that Wouldn't Die," The Chronicle of Higher Education (17 March 2019).
"The History of Science and the History of Knowledge," KNOW 1(2017): 1-25.
"When Science Went Modern," Hedgehog Review 18(2016): 18-32.
"Can Liberal Education Save the Sciences?" The Point Magazine (2016); also featured in Arts & Letters Daily, Chronicle of Higher Education (15 June 2016)
Recent Media (interviews, podcasts, radio)
Recall This Book (January 2023) 
The Colin McEnroe Show – NPR (December 2022)
The Good Robot (November 2022)
The Future of … with Owen Bennett-Jones (November 2022)
Marginalia Review of Books (September 2022)
Thinking Allowed – BBC4 (September 2022)
History of Philosophy without Gaps (May 2022)
"Science Goes Global," Scholar-to-Scholar Lecture, National Humanities Center (13 October
2021)
FURTHER INFORMATION AND LINKS TO PUBLICATIONS AT:
https://www.mpiwg-berlin.mpg.de/users/ldaston
Max Planck Institute for the History of Science Max-Planck-Institut für Wissenschaftsgeschichte   Boltzmannstr. 22,  14195 Berlin, Federal Republic of Germany